Författare: Jonathan Elphick, Jan Pedersen and Lars Svensson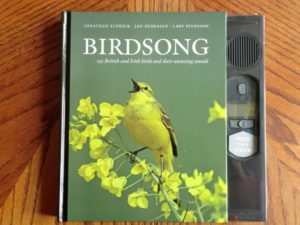 Utgiven av: Quadrille Publishing
Skänkt till Strandskatorna av: Max Ström
Antal sidor: 256
Ca pris: 300:-
One of the most inspiring and beautiful sounds of nature is that of birdsong. Nothing moves us as deeply as those first few notes ushering us into the happiness of spring.
How fascinating are all those varied songs and calls from the littlest Blue Tit merrily tweeting on a branch to the haunting cry of a Tawny Owl late at night.
It is a great pleasure for beginners and seasoned birdwatchers alike to distinguish these many different songs. Familiarizing oneself with the sounds is a great help while bird watching as many birds are heard first and only seen later.
As well, some species are better recognized by their songs such as the Willow Tit and the Marsh Tit.
However, identifying birds by their songs and calls can be a tough challenge for even the most enthusiastic bird lover.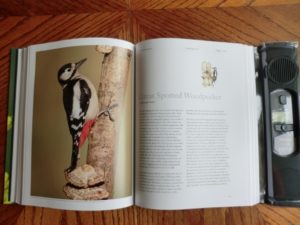 It is the intent of Birdsong: 150 British and Irish birds and their amazing sound, to provide these wonderful songs and calls for the enjoyment of everyone. Jonathan Elphick joins Jan Pedersen and Lars Svensson (Fågelsång: 150 svenska fåglar och deras läten) in assembling a beautiful collection of photographs and sounds of some of the most fascinating and best loved birds of Britain and Ireland.
Birdsong gives the reader a unique experience. It brings together the expertise of professional ornithologists and nature photographers as well as over 180 recorded songs and calls of birds at the touch of a button.
Not only a great reference book for anyone interested in birds, Birdsong is a work of art that captures the resounding chorus of nature.
/Jacqueline Nason
Total Page Visits: 627 - Today Page Visits: 1